Find Unique Charity Auction Items! Zero-Risk, All-Reward Fundraising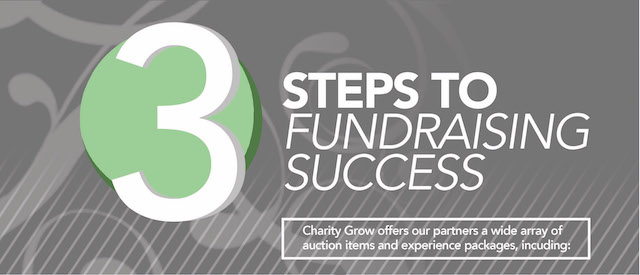 • Authentic Autographed Memorabilia                  • World-class Vacations
• Once in a Lifetime Experiences                           • Stunning Artwork
• VIP Access to Events, Concerts and Shows          • AND SO MUCH MORE!

---

Charity Grow works entirely on the good-faith system, offering all our incredible auction items on consignment — ZERO-RISK, ALL-REWARD! We even pay to ship items both to and from your event, helping to maximize the profits for your organization.
---

Once you've select your auction items, they will arrive beautifully displayed and ready for bids at your event. Our charity fundraising experts will help set your minimum bids, to ensure every auction item sold delivers tremendous revenue for your cause.
---

Every dollar bid above our consignment rates goes directly to your organization GUARANTEED! After your event, simply ship back any unsold items entirely at our expense, and every dollar raised in your auction goes straight to your charity's bottom line. It's that simple!
---

---

Don't pay for auction tools you can get for FREE! Charity Grow is the only organization that will host your entire auction 100% free of charge, including your donated items. NO SETUP FEES, NO CONTRACTS, NO COMMISSIONS — 100% PROFITS!